Coutinho: I feel I am at home
Philippe Coutinho celebrates his one-year anniversary in a Liverpool shirt this month, and credits the club with helping him develop into a more accomplished player.
The Brazilian was unveiled at Anfield on January 30, 2013, after penning a long-term deal with the Reds. His impact on the team was immediate, with his first four Premier League starts producing two goals and a brace of assists.
The playmaker struck up an instant magnetism on the field with fellow new signing Daniel Sturridge, and the intuitive Luis Suarez.
Coutinho's dissection of opposition defences has become a trademark over the past 12 months, and at the end of December, he had attempted nine through balls - bettering the effort of nine entire Premier League teams this season.
The 21-year-old's proclivity to pick the perfect pass is constantly applauded by his teammates.
"Coutinho is a quality player, he's assisted me four or five times since he has been here," Sturridge told this website in May.
"It's fantastic to be playing with a player of his calibre.
"He's a quality player and I can't praise him highly enough for what he has shown. It's very difficult to do what he has done in such a short space of time.
"I want to say thanks to him because he's made my job very easy and he's been very unselfish. He's put me in many times and it's fantastic to work with him."
Jose Enrique said: "He is the type of a player, as a big team, you have to have. He can create from nothing in a one versus one."
Steven Gerrard described the midfielder as 'magical', while Lucas Leiva warned Liverpool's rivals that his countryman 'will only get better'.
Coutinho believes it's his teammates who deserve the credit, after helping him slot in seamlessly during his debut year as a Red.
"It's a year that went very quickly, and I am living in a very happy moment," he told Liverpoolfc.com in an exclusive chat at Melwood.
"What surprised me most was the way the players are made to feel at home, and I am grateful to the city, my teammates and the club for the way I was received."
Liverpool's No.10 has treated supporters to an archive of the sublime.
He defined his full bow - during the 5-0 humbling of Swansea last February - with a breath-taking goal, a fine flick for Enrique during a flowing team move, and several slick one-twos with Sturridge and Suarez. He received a standing ovation at Anfield when he was replaced on the hour mark, as Reds supporters revelled in a taste of the entertainment to come.
His dismantling of Fulham during a 3-1 triumph at Craven Cottage in May was even appreciated by the home fans, who clapped him off as he was substituted.
Coutinho was instrumental as Sturridge secured a hat-trick in that encounter, the highlight of his exhibit being an outside-of-the-foot through ball that allowed the England international to clinch his treble.
Despite several other shows of quality - including the opening strike in this season's epic Merseyside derby, the former Inter Milan player feels he still needs to properly cultivate his craft.
"I want to continue improving and look forward to working harder - and harder on what I need to do to be considered a great player," he said.
"I think I have improved with my positioning on the pitch because sometimes I play on the wings and other times in the middle.
"I have improved my knowledge a lot more and have worked harder on my finishing."
There is one component of his game in particular which Coutinho is determined to upgrade.
"My goal scoring, for sure," he admitted. "Sometimes my positioning is not the best and I need to improve that to score more goals."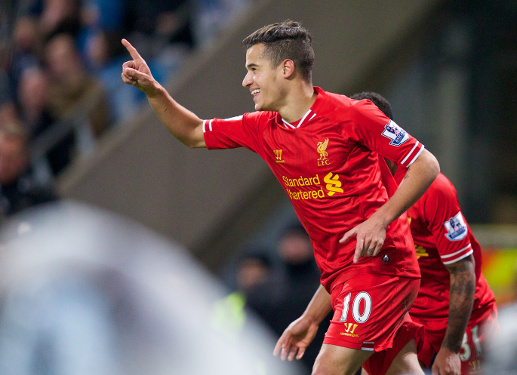 The Rio-born attacker, who's already played in four different countries, is relishing the cutthroat nature of England's top flight.
"Here it is really different from other leagues, it is very competitive and sometimes you are leading but if you relax too much another team will overtake you quite quickly and you fall behind again. It is like a battle all the time," explained Coutinho.
What does he expect from his second year at Liverpool? "We are quite confident. Our thought is to win every match and start every match doing our best in this battle, and we have to carry on this way.
"Our aim is to be within the first four places at the end of the season and we will try our best to keep ourselves up there," he concluded.
In the meantime, Liverpool fans can indulge in Coutinho illustrating his catalogue of creativity.
Coutinho
Philippe Coutinho