'Hearing 'Bestie' at Anfield? It's one of the top five moments of my career'
Even if you haven't heard of UK hip-hop artist Yungen, you've almost certainly heard his most recent release at some point over the last couple of months.
Bestie was published on YouTube on June 15 and at the time of writing it has accumulated around 12.5million views on the platform, continuing to retain top-15 berths on iTunes, Spotify and Apple Music charts.
The catchy track, featuring Yxng Bane – which for genre fans of a certain vintage will evoke nostalgia of early noughties heavyweights Many Men by 50 Cent and Cam'ron's Hey Ma with segments of the word play – has been on heavy rotation on mainstream national radio, television and ​the playlists of ​ streaming service​s​ for most of the summer, firmly remaining the case as we move into autumn.
And if you were in attendance at Liverpool's Champions League clash against Sevilla at Anfield last month, you may well have also caught its airing during the half-time interval.
"That is one of my top five achievements," Yungen told Liverpoolfc.com of the moment his tune was aired at the home of the Reds, making no secret of how much of an adrenaline rush it provided him.
The reason for the sizeable sense of accomplishment?
Well, the 25-year-old – who counts former Red Raheem Sterling as a close personal friend – has been a supporter of the club since childhood, inheriting his passion for the team from his Merseyside-born mother.
"Half of my family are from Liverpool," he explains. "My mum has been a massive, massive Liverpool fan all of her life, so I've grown up with her supporting them. She's from the area, she's originally from the Wirral before moving to Kirkby. She's how I got into being a Liverpool fan.
"My brother's name is Emlyn – after Emlyn Hughes! He and my other older brother spend a lot of time in Liverpool as they're both massive supporters as well."
It's no surprise, then, Mum's phone was the first to receive the news after the man himself was on hand inside the stadium to hear the fruits of his labour being played to just under 54,000 people.
Yungen watched the Sevilla contest from one of the Main Stand's upper tiers… but could almost have missed out on hearing Bestie blaring around his beloved Anfield.
He takes up the tale: "I was going to get food at half-time, so had made my way down [to the concourse]. My brother's wife was still in her seat and she texted me, 'Oh my god, they're playing your song!' I was like, 'What!?' so I literally ran back up and caught the song playing.
"I texted my mum so quickly. She was as made up as I was. It was crazy. There are some things you can't make up and that was a moment I will never, ever forget.
"My friends who are around me all the time know what a massive Liverpool fan I am, so for them to know that my song was played at Anfield they know what a massive achievement that is for me.
"Growing up as a kid, you never imagine that could happen to you. It's so surreal to have my song played at Anfield."
Just days later, the lyrics to the snappy chorus of the record was used as a caption by Alex Oxlade-Chamberlain on an Instagram post of him and his girlfriend.
"That made me happy, that made me happy," Yungen acknowledges with a smile. "I think he's a good player… especially after he was supporting my song as well! I really like him. I don't know him personally, but it made me happy when I saw he'd used the lyrics."
Yungen's Liverpool love affair began back in the late 1990s when Michael Owen's breakthrough onto the world stage reinforced his mother's message that the Reds were the club for him. His first game soon followed in the early 2000s – a 2-1 Anfield win over West Ham United at the start of the 2001-02 campaign.
It's an affinity that's stood the test of time, with the south London-born rapper living and breathing the highs and lows of the years that have followed since, and embracing the heroes that have graced the Anfield pitch, with Owen's exit for Real Madrid in 2004 paving the way for a new idol.
"My earliest memories of supporting Liverpool? I'll never forget I was on holiday in Jamaica with my dad for a few months and I can remember they were the only team on TV I wanted to watch.
"It was around the 1997-98 season, when Michael Owen broke through. He was my favourite player as a kid and everything I wanted was to do with him – the same boots and everything. I had his name on the back of my Liverpool shirt… every shirt until he left, actually!
"After he went, Stevie G was my hero – 100 per cent. He's been my biggest Liverpool hero overall. He's the main one, along with Carragher, because of their loyalty and passion for the club, every game they wanted to win and gave everything in every game."
Arguably like many reading this article, Yungen regards May 25, 2005 as perhaps the acme of his Liverpool-supporting life to date, watching on television as Gerrard hoisted the European Cup aloft in Istanbul.
"I was at my mate's house," he reminisces. "We obviously went 3-0 down so at half-time I was trying to leave the house and they were like, 'No, you've got to stay! You have to watch this!', but I was saying, 'No, I'm going home'… I was fuming!
"Then we've come out the blocks after half-time and got a goal and I was like, 'Yes! We've got this! We can do it'. My mates still thought there was no way, so when we did it I was buzzing. Absolutely buzzing. I was going crazy at full-time; my mate is a Man United fan and I was running around his house screaming at the top of my voice.
"One of the best days ever."
Switching track to the present day, Yungen is optimistic the current crop of Liverpool stars can deliver similar feelings of joy and scenes of celebration over the coming years.
"We can beat anyone, definitely. Obviously we're going through a bit of a blip, but I think a couple of seasons ago we might have lost these games," he reflects.
"I think we can still challenge this season. I feel we need to have a good run in the Champions League. Hopefully we can win something this season, but personally speaking, I would like us to have a good go in the league and a good run in the Champions League than win one of the domestic cups.
"I love Coutinho. Mane and Salah, I like their partnership. Firmino has been a grower on me because when he first came here, I wasn't too sure about him but in the last two seasons he has been really good and I'm a massive fan of him. Lallana as well, I'm a big fan of his.
"And I love Klopp's passion. He really wants to win. Sometimes we've had bosses who've tried to play it too safe, but Klopp has his way and he's sticking by that. I'm a fan of his. He's someone you'd love to play for as a player I think. He's got what you want from a boss – you've got to feel like he wants to win. You can see him getting animated on the touchline, he's got real passion.
"We can beat any team if our attacking players are on their game, 100 per cent."
Away from football, Yungen is currently focusing his energies on creating new music, aiming to match – if not indeed surpass – the achievements of Bestie.
He'll embark on a UK tour in November before dropping a debut album in early 2018.
"It's been a moment for me. You know when you're working so hard and trying and trying to get one, then the one you don't think is going to be the one turns out to actually be the one that does really well… I've been made up with it. Now I've got to keep going, keep performing, try and get more chart success and drop the album early next year," he adds.
"Sometimes it's a bit surreal. I'm from a council estate in south London and when I go back to that estate, the parents of my friends who didn't know I took music so seriously are like, 'We heard you on the radio!' or 'We saw you on the TV!' That makes me feel good, it makes me feel like the first time I first put out a song again.
"I'm going to put out a new song in the next few weeks. I've got a couple of new ones to release, just a couple of teasers before I go into album mode. I've got a tour coming in November, so I want some new music out for then. Then I'll go into the album early next year, probably coming with the first single at the end of the year or in early January."
Catch me on
@LFCTV
at 9pm with
@NeilMellor33
&
@Phil_Thompson4
on LFC Later 💪🏽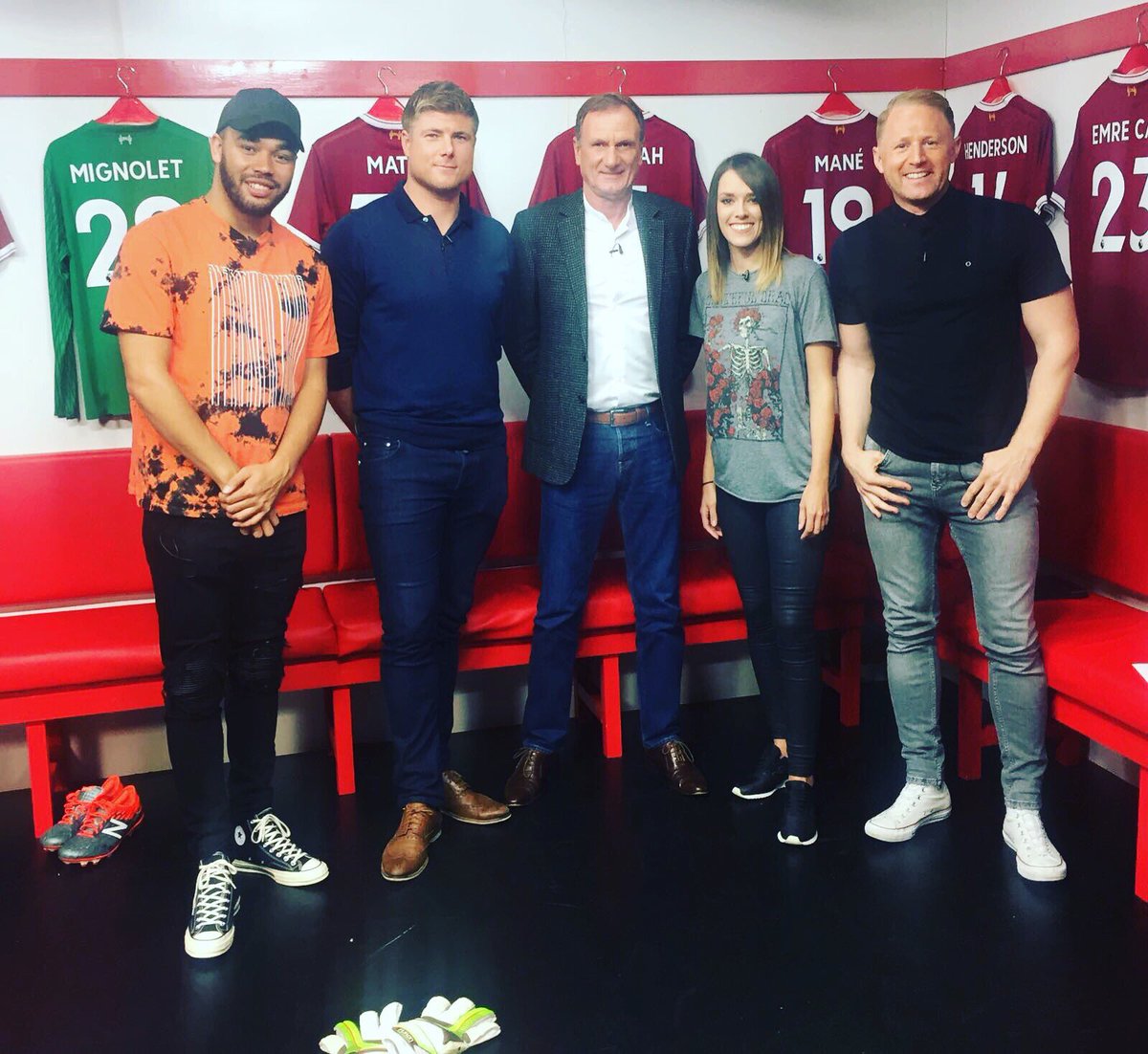 Much like the successes of his Liverpool heroes over the years, fundamental to Yungen's desire for success is a deep-seated passion for his trade and steadfast work ethic and commitment.
"I always say, I don't want to wake up another day and do something I don't want to do or something I don't enjoy doing," he explains. "I know I have to give this 110 per cent.
"With the business it is, it might not work today, it might not happen tomorrow, but if you stick at it and you do well enough, eventually it will come to you. Hopefully that's what has happened so far."
And what if he was to one day have some of his work played at Anfield again?
"If it happened again? Wow, I don't know… I don't know what I'd do. It'd be crazy. Absolutely crazy."
No lie.