'I won't forget such a special reception'
Luis Garcia insists he will treasure the moment he was able to introduce his son to the passion of Anfield.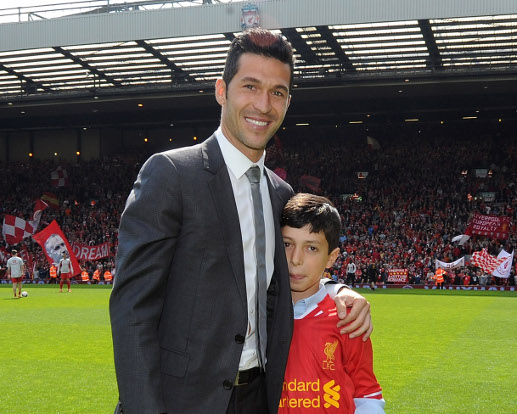 The Spaniard, who holds a special place in Kopites' hearts due to his exploits over a three-year Liverpool career, walked onto the pitch to rapturous applause prior to the Reds' clash with Chelsea on Sunday.
Due to playing commitments, it was Garcia's first chance to watch the team in action at Anfield since he departed for Atletico Madrid in the summer of 2007.
But yesterday, accompanied by his nine-year-old son, Joel, the former midfielder made a surprise return in front of a resplendent Kop on what was ultimately a day of disappointment for the Reds.
The fans roared a rendition of Garcia's signature tune when they caught a glimpse of him, and his arrival helped raise the atmosphere within the ground to fever pitch.
Jose Mourinho's men managed to subdue the din, though, as they snatched a narrow 2-0 victory; however, Garcia insists he will never forget the moment he took to the hallowed turf once again.
"It was special to take my son out," he told Liverpoolfc.com from the tunnel after receiving a truly stunning Kop reception.
"It was something I wanted to do a long time ago; to bring him here and show him Anfield and what it means for the people and how the people feel about football here in England. Going out there with him is something I have always dreamed about.
"It was too much really. I'm still shaking. It was unbelievable; to get out there and feel the crowd.
"When you arrive here, you see the people and you know that they care about you and they remember you. Then you get into the ground and feel that love from them, as a player, that is the most important thing."