Champions League final blog
Follow LIVE updates as Liverpool prepare to contest the 2018 Champions League final against Real Madrid.
We'll bring you all of the build-up, action and reaction - including club messages, news, views, videos, photos, stats and more - as it happens right here.
Klopp exclusive interview
The manager recently gave Liverpoolfc.com an extended exclusive interview ahead of Saturday's final, reflecting on the 'exceptional' run that has taken his team to a decisive meeting with Real Madrid.
Read the best of the chat with the boss by clicking here.
The deadline for collection of Champions League final tickets from Anfield is 5.45pm on Wednesday May 23.
Our ticket office team are currently trying to contact the lead bookers who have yet to pick up tickets, and remind them of the collection deadline.
Tickets for the Champions League final screening at Anfield have all been sent out to fans who booked them and should arrive today (May 23) and tomorrow (May 24). None are due to be collected from Anfield.
International supporters who are due to collect Champions League final tickets in Kiev should be aware that emails outlining the collection details are being sent out this afternoon (Tuesday May 22).
Travelling to Kiev?
Click here to access the latest travel information from the club.
Also, UEFA and the Kiev local authorities have arranged free use of Kiev's municipal public transport system between the hours of 6am on Saturday May 26 and 12pm on Sunday May 27, on production of a valid match ticket and travel voucher.
To obtain a travel voucher, please click here.
Pre-match entertainment...
Liverpool Football Club is planning to entertain travelling fans with exclusive pre-match show at Shevchenko Park on Saturday, to get everyone geared up for what promises to be a historic night in Kiev.
Supporters can enjoy live music and entertainment from fan favourites such as The Anfield Wrap, RedmenTV and BOSS Mag. A packed itinerary is on offer from 2pm (local time).
A guide to Kiev for LFC fans...
Are you travelling to the Champions League final?
If so, make sure you don't miss our guide to Kiev, containing a stack of need-to-know information about the city.
Kiev ticket collections at Anfield
We would to thank those fans who have queued to collect their tickets at Anfield in the last few days for their patience. We are glad that the weather has been so kind and know that the chance to attend the final will have been worth the wait.
If you are one of the lead bookers still to collect tickets, please take advantage of the fact we are open until 8pm BST on Tuesday. The last collection time at Anfield for Kiev tickets is 5.45pm on Wednesday, but we advise you arrive earlier in case of last minute queues.
NB - If you do not collect by 6pm on Wednesday, you won't be able to collect in the UK.
Please note that all tickets for the live screening of the Champions League final at Anfield will be posted out, today (Monday May 21) and tomorrow (Tuesday May 22).
If you are due to collect your UEFA Champions League final ticket in Kiev, you will receive an email from us by the end of Tuesday.
This will give you all the information that you need about where and when to arrive, and what ID you need to bring with you.
Please check your inbox for the email, but if you haven't had it by Wednesday morning, it may also be worth checking your spam/junk folder in case it has been directed there by your email provider.
Liverpool FC would remind supporters that under no circumstances should tickets for the Champions League final be purchased from unofficial sources.
The entire 16,626 allocation that Liverpool received from UEFA for the final has now been sold and the process of distributing tickets is under way.
The club is aware of instances of tickets being sold at extortionate prices, with a number of cases currently being investigated.
It remains a matter of deep frustration to Liverpool FC that genuine supporters are denied access to tickets because of unauthorised sales activity.
Every effort is being made to prevent tickets being sold in this way and the club will take action against those identified as being responsible.
Should any supporter be offered tickets from unofficial sources or become aware of forgeries on the market they are urged to contact the ticket investigations team at: Lfcmatchdaysafety@liverpoolfc.com
Changes to ticket office opening hours
Please make a note of the below if you need to collect tickets.
Friday 8.15am to 5.45pm
Saturday 9.15am to 3pm
Sunday 12pm to 4pm
Monday 8.15am to 7.45pm
Tuesday 8.15am to 7.45pm
Wednesday 8.15am to 5.45pm
Ticket fulfilment
Some more important information: tickets purchased on the 15/16 of May will be available for collection when the ticket office reopens tomorrow.
Liverpool Football Club can confirm that we have now sold out of tickets for the Champions League final.
Following the sale to supporters on the ballot waiting list (positions 1-719), an extremely limited number of tickets remained. The remaining tickets were offered to supporters on the waiting list from positions 720-783.
Supporters are advised that, in keeping with UEFA guidelines, all banners measuring 1m x 1.5m or above must be approved before they will be allowed into the stadium.
To assist this process, Liverpool are asking fans to send photographs of their banners and accompanying fireproof certificates to stan.tickle@liverpoolfc.com at the earliest possible opportunity. The size of the respective banner should also be specified.
In keeping with previous finals, the club wants to help as many supporters as possible to be able to take banners into the NSC Olimpiyskiy Stadium and the process outlined above will help us achieve that objective.
Marbella training camp begins...
The Reds have arrived in Spain and conducted their first training session in the sunshine on Wednesday evening.
Click here to view our full gallery from Marbella.
Thomas Cook Sport has put on additional flight for Liverpool fans with an official match ticket travelling to Kiev,…
twitter.com/i/web/status/9…
Further information regarding
@LFC
flights to Kiev:
bit.ly/2GmO5pe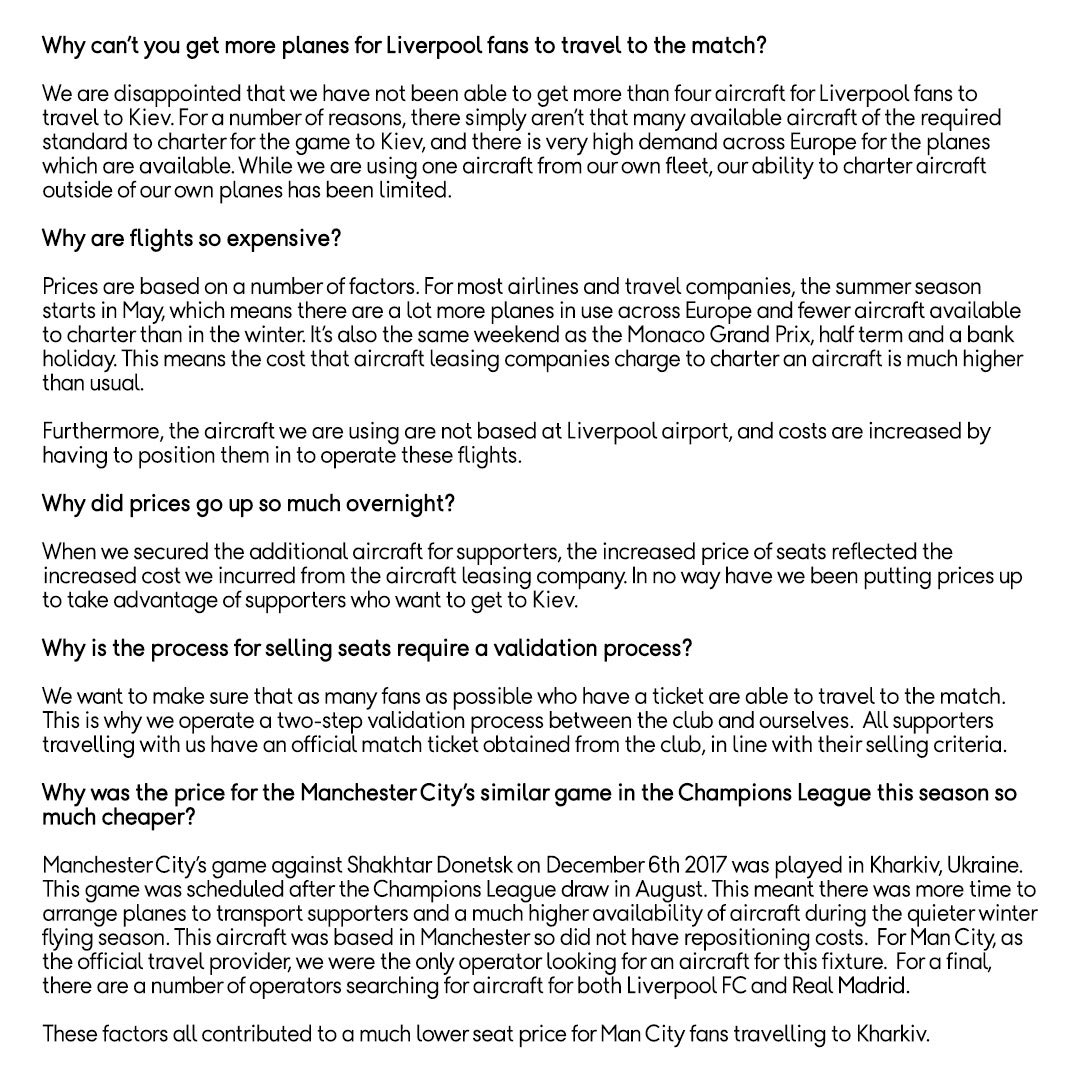 Anfield screening - additional tickets
The club has released additional tickets for the Champions League final live screening at Anfield. Click here for more information.
Screening tickets
We are posting out all tickets for the Anfield screening of the Champions League final that were bought on Friday May 11. Supporters should receive these by Monday May 21 and no tickets are being held for collection at the Anfield ticket office.
If we are able to release any more tickets for the screening for sale, these will be advertised and only sold via our website here.
Fulfilment of Kiev tickets
Tickets bought up to and including May 11 have already been posted or are ready to collect at Anfield depending on the delivery option selected by the lead booker at the time of purchase.
Tickets purchased on Monday May 14 will be posted on Wednesday May 16. Collection dates for tickets bought on May 14 will be confirmed ASAP.
Tickets purchased on Tuesday May 15 and Wednesday May 16 will be posted from Thursday May 17. Collection dates for tickets bought between May 15 and 16 will be confirmed ASAP.
If you selected to have tickets posted then these tickets are being sent as Special Delivery via Royal Mail. If Royal Mail attempt but cannot deliver they should leave a card at the delivery address with information on how to collect the tickets from them.
If you elected to collect your tickets from the ticket office at Anfield, please be aware that only lead bookers can collect tickets and must be ready to present the following.
The payment card used to make the booking
And either
Your valid photo driving licence
or
Your valid passport plus proof of address on an original utility bill (i.e. not a photocopy of a copy of a bill). Please note, the address shown must be the address used for the booking.
Full details can be found here.
Emre Can injury latest
The Liverpool squad departed for a four-day training camp in Marbella today, with Emre Can among the travelling party.
The midfielder will continue his rehabilitation this week and will be assessed on a day-to-day basis to determine when he can rejoin training with his teammates.
Ticket office opening hours
The Anfield ticket office will be open until 7.45pm today (Wednesday 16) and Thursday 17 for supporters collecting tickets for the Champions League final.
Click here for more details.