Exclusive: Luis Garcia on his love for LFC
Luis Garcia made his return to Anfield ahead of the Reds' clash with Chelsea last Sunday - and in an exclusive interview with Liverpoolfc.com, the Kop hero reflects openly on a truly special career with the club.
The popular Spanish ace, who struck numerous, priceless goals during three years with the Reds, was introduced to supporters before kick-off against the Blues as he took to the field accompanied by his son, Joel.
Fans chanted Garcia's name like the old days as he was afforded a rapturous reception - and prior to the game getting underway, the 35-year-old sat down with Liverpoolfc.com for an exclusive chat.
Our former No.10 reminisced about the run to Istanbul in 2005, including those goals against Juventus and Jose Mourinho's men, as well as reflecting in general on his time at the club. Below is a full transcript of the interview...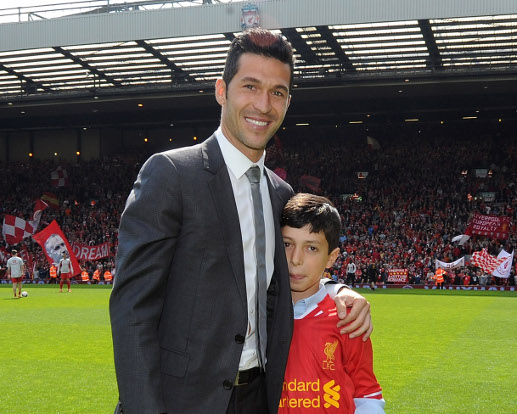 Luis, welcome back to Anfield, what was going through your mind on your journey here?
Many things. Memories, the stadium, the people - I enjoyed every minute I spent here.
When you look out around the stadium, what kind of emotion does that make you feel?
I miss the ground, I miss the stadium and I miss the crowd. I think for a player, when you stop playing, for the first and second year, it's hard not to miss football and I would have loved to have stayed here.
It's nearly 10 years since you joined Liverpool. Back then did you ever imagine you would embark on this love affair with the Reds?
No, not really. When I arrived here, of course I was trying to do my best and enjoy the experiences, but I couldn't have imagined coming back here as a supporter to enjoy a game like this one.
You are very popular with the supporters, we still hear your song sung to this very day. Is it true a couple of weeks into your Liverpool career a fan got down on his knees and worshipped you in the street?
Yes, that's true. It was the first year I was here and a fan came up to me in the street, I remember if perfectly, and he went down on his knees and started praying. As a player, you cannot express with words this kind of feeling from the people.
We won't ask you about whether the ball crossed the line, but obviously a lot of people remember that night against Chelsea back in 2005. The atmosphere is one of the biggest talking points, too - do you think the noise generated that night will ever be matched again?
Yes, for sure. There are many good things still to come for Liverpool, but that night was unbelievable. We enjoyed it so much and I think for the Liverpool fans, that night was one of the best. For us, as players, we enjoyed the sound of everything and it was very good.
When you look back at that night now, when you see the goal on TV, how does that make you feel?
Excited! I miss those kind of feelings. For a player to have such a feeling, to score a goal [like the one against Chelsea] was unbelievable.
Eidur Gudjohnsen's shot - does it still give you nightmares?
Yes, I remember it. It was a crazy feeling. I was on the bench and I could hear the crowd suffering when Gudjohnsen had that chance to score. I remember seeing Carra on his knees - and we were thinking, 'Oh my goodness, surely we are safe now!'
On to Istanbul and probably the greatest night in the club's history. At half-time did you still believe?
Well, we had to. There were 45,000 people cheering us on outside and everyone knew we had to try our best in the second half and not concede any more goals. We went out there and it happened. Nobody expected it, but we did it.
At what point in Istanbul did the team start to believe it was possible?
I think after Stevie's goal. We said: "Listen, we can do it. Let's keep trying to do the same things and we can continue working." AC Milan stopped working like they had done in the first half and we tried and it happened.
You were down to take the sixth penalty in Istanbul. Had you taken it, would there have been any nerves?
Yes, for sure. I was asking Rafa Benitez to let me take one of the earlier ones and he said: "No chance, because your legs are tired. Let the other guys take one and maybe you might get one at the end."
[SLIDESHOW]
When you watch that footage back now is it hard to believe that night occurred?
Yes. It's so difficult to take those moments in, but we just tried to do our best.
Where do you keep your winners' medal now?
In my home. I have it with a small replica of the Champions League trophy and I keep it there.
You were known as the man for the big occasion here, but what was your best game for the club in your opinion?
I'm not sure because it's hard to remember all of them, but for me, one of the best nights was against Juventus because their team had some unbelievable players. That night was crazy and the goal that I scored was one of the best I have scored in my career, so I think that was one of the best games I have ever played.
How did those three years at Liverpool change you as a person?
A lot changed because it was a different a country, a different way of living and doing things. I continue to have English breakfasts to this day, and I do many things from my time staying here.
Is it fair to say Liverpool is your club now? You follow them on twitter, you still watch from afar?
Yes, of course. When you spend good years at a club, it makes you care about the club and the way they treat you. The three years I spent here and what happened after that with all the people supporting me from far away made me love the club. When the Spanish players came to Liverpool in 2004, the club treated us like a family and it made us feel very special.
When you are watching the game and you still hear the fans singing your name even now - how does that make you feel?
Weird, because you are 3,000 miles away and you feel the crowd chanting your song and enjoying those kind of moments. All the people remember you, so it's a strange feeling - but I enjoy it every time I hear it.
What have you made of Liverpool under Brendan Rodgers?
I think he has built a strong team and they have been consistent all season -the whole year. I think everybody is enjoying the way they are playing, so he is doing a very good job.
Would you have liked to have played in this team?
Yes, I would have loved to!
So, lastly, is Luis Garcia a Red for life?
Yes, for sure. They say once a Red always a Red and it's like this for me.