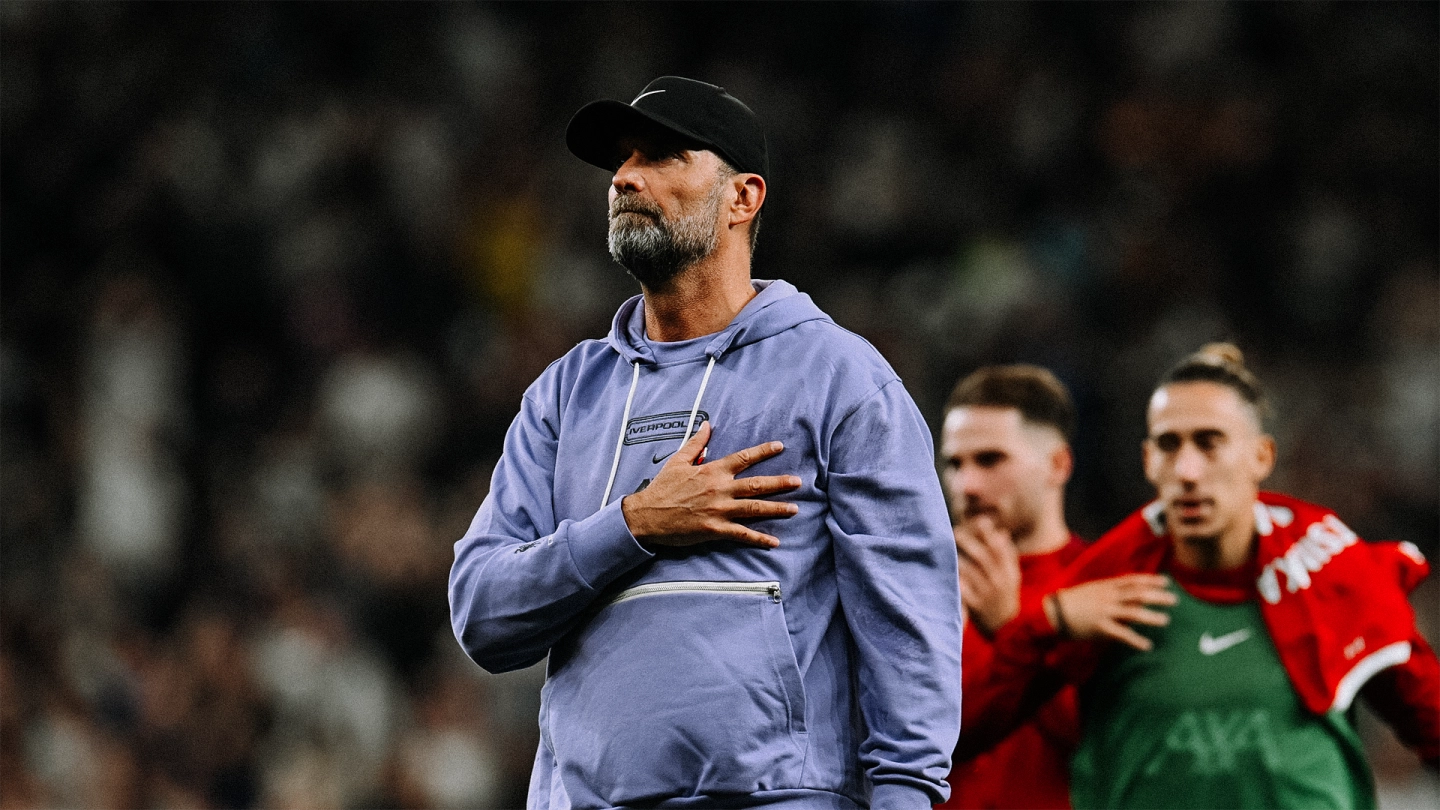 Reaction

Jürgen Klopp press conference: Tottenham Hotspur 2-1 Liverpool
By Joe Urquhart and James Carroll at Tottenham Hotspur Stadium
The Reds were beaten after a Joel Matip injury-time own goal at Tottenham Hotspur Stadium, having earlier been reduced to nine men following the dismissal of both Curtis Jones and Diogo Jota.
Cody Gakpo initially levelled for Liverpool in first-half stoppage time to restore parity, after Son Heung-min broke the deadlock nine minutes ahead of the interval in the capital.
Luis Diaz also saw a goal ruled out for offside in the first period, which, it was confirmed by PGMOL post-match, subsequently should have been awarded via VAR.
Read on for a summary of what the boss had to say to reporters at his press conference...
On Diaz's incorrect offside goal...
I don't think there is anything to say about the offside goal, I knew it at half-time. In the first moment I saw [it], it's clearly not offside but then it's offside, so I try to think they have a better view and at half-time we knew. With normal pictures, [it's] easy to see now. But [I'm] pretty sure whoever did that, made that decision, didn't do it on purpose. It didn't take extremely long to come to the conclusion. It's a bit strange but somebody else has to clarify that. I have nothing else to say about it.
On whether there was any explanation from the referee post-match...
How can the ref explain the situation? The linesman thought obviously it's worth watching [and] looking again and that's why he raised the flag. In the good old times, a linesman should have seen that as well, that this is not offside, because we had these situations quite frequently and when you see it back it's pretty clear... but, again, nobody did it on purpose, whatever I say here just creates headlines but doesn't help the situation at all. I'm not in the mood.
On it being one of the best Liverpool performances from any of his teams...
Yes, absolutely. I told the boys directly after the game I am super-proud. Super, super-proud. I think especially with 10 men they were really good... did everything what was necessary really well and on top of that we were really dangerous. We created still so that's good, top for us; red card for Curtis, probably everybody here in the room thinks it's a clear red card, I see that different, just because I played football and most of you probably didn't. Full power on the ball, rolls over the ball, then hits the decisive part of the leg. When you see it in slow motion it looks horrendous. I think when you see it in real time it's not even close to being that bad. So, it's a red card, but Curtis didn't do it not even close to being on purpose. For me it's really important that nobody starts thinking that we had so many red cards, so we are a kicking team, we are not, we don't.
First red card from Alexis [against AFC Bournemouth] was not a red card, we had to play already I don't know how long with 10 men, second [for Virgil van Dijk at Newcastle United] is for a normal foul I would say, third is now for that situation and the fourth I will never understand. How many games can you remember 11 versus nine? I watch a lot of football. It just doesn't happen that often and we are not in the game and kicking Tottenham players. We are trying to play football. We defended, yes, but the two situations, the first I think is clear not a yellow. The second then I didn't see actually back, but it's not important because if the first is not a yellow then maybe the second is not and we still play with 10 men.
So, that made everything difficult, but the boys made really the most of it, it was incredible. [The] mentality we showed was second to none; never saw something like that. That's top, top, top. Now people might think because of this very, very unlucky own goal... that we didn't get anything out of the game. I see that differently. I think I learned so much about my team, much more than [if] we would've won here and it been a bad performance. It was a really outstanding performance in a specific way. We didn't get any points from it but we will use it anyway. That's the plan.
On whether slow-motion replays should be avoided when referees make decisions…
It is really not too important what I think about it because my thoughts will change nothing. But if you look at it [in slow motion] and I think we all agree it looks completely different. The game is in real time but we judge it in slow motion – that makes now not too much sense in the first place. And still if they wouldn't use slow motion I think we would still not agree on the majority of situations, it's just a different view. It's really not my subject today, honestly. It's not my subject today. Whatever they do, they try to do it right I assume.
On a PGMOL statement confirming there was 'significant human error' in disallowing Diaz's goal for offside…
Who does that help now? We had that situation in the Man Utd game, did Wolves get points for it? We will not get points for it so it doesn't help. Nobody expects 100 per cent right decisions on-field but I think we all thought when VAR came in it might make things easier. I don't know why, the people in the VAR are they that much under pressure? Today the decision was made really quick, I would say, for that goal? It changed the momentum of the game, that's how it is. We score that goal; it was top, top, top, outstandingly well played. In a game where you don't get a lot to feel better, you make that, that's super-important information, that's how we can hurt them, that's how we can beat them, stuff like this. So, it was super-difficult, but the boys dealt extremely well with it.
The killer of the game was the second red card, and a lot of other decisions. The ball Mo Salah wins back on the other side, I will never understand how you can make a foul of that – that's football, fantastic high press, stuff like this. Player goes down. We went down against Leicester, nobody whistled and they scored a goal. These situations, too many of them where you think, 'It's football, why would you do these kind of things?' I know it is really difficult for the referees in a lot of moments. I think nobody should blame the ref for the offside goal, that's absolutely not his fault, but for a lot of other things he is not out of responsibility, I would say. But that's it now.
We didn't get a point, I think that's what we would have deserved. Didn't get that but I got a lot out of that game and I will help the boys to feel that as well and to go from here.