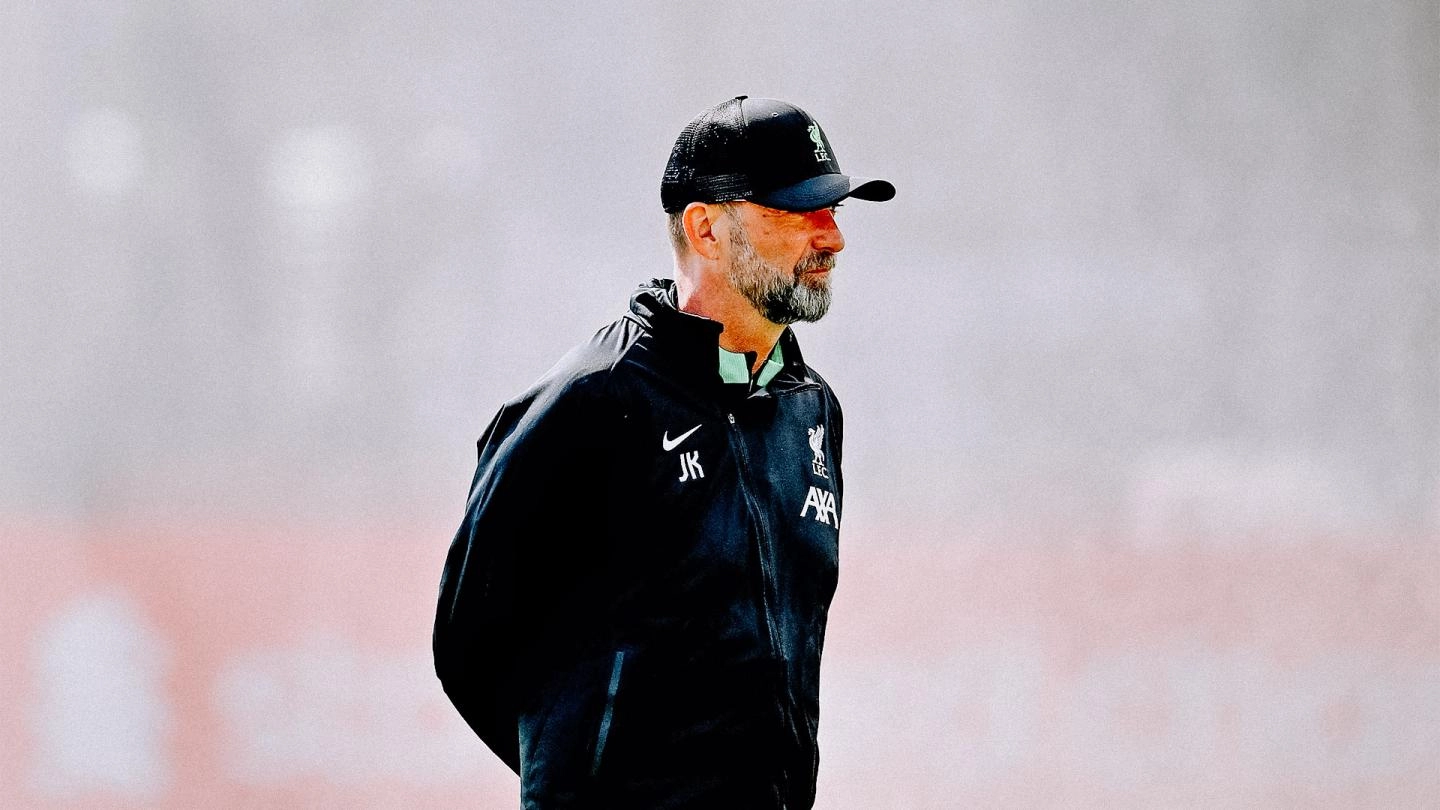 Press conference

Jürgen Klopp on a 'massive game' v Aston Villa, midfield dynamic, confidence and more
By Glenn Price and Chris Shaw
The Reds host Unai Emery's side at Anfield on Sunday afternoon and look to enter September's international break with their third victory of the 2023-24 Premier League season in hand.
Klopp answered questions from reporters at the AXA Training Centre ahead of the clash – read on for a summary of his comments...
On facing Villa...
I saw the game against Burnley – we saw, meanwhile, pretty much all the games – but I watched it when it happened. Burnley was good, to be honest, but Aston Villa is a machine – counter-attack, good organised, everyone committed 100 per cent, when they defend deep then they defend with their all and from there they go. I think everybody agrees when you look at Villa, [the] players they brought in, it makes massive sense. [They have] speed on the wings, Watkins up front, McGinn super-smart, physical as well but then really looking for these balls in behind and these kind of things. It's a massive game, no doubt about it. Yeah, we have to play a top game to get something out of it and we need Anfield as well, so that's what we have to make sure. I know that it always depends on the way we play a little bit at least and we have to do our own part, but I know the people are ready to do their part, especially after last weekend. After that it is the international break, so we could make a good start [and] turn it into a really good start to the season result-wise. But there are a massive 115 minutes in between now and then.
On the confidence Darwin Nunez can draw from his match-winning cameo at Newcastle United...
Massive, massive, that's clear. That's what he wants, what we want. It's exactly how it should have been – being a massive threat. You could, of course, see it the next day. But everybody could feel it. This game was massive. And the way it happened, all these kind of things, it looked for a while for 10, 20 minutes like everything goes against us – not destiny, we had our hand in that. But how the boys fought out of that was pretty impressive. So now we should try to do that with 11 players.
On assessing Liverpool's business in the transfer window...
We pretty much have to reinvent the team. The midfield is now already and will be completely new. Over the last few years we had to do the same with our front line. The most stable area is obviously the last line but now not because of the injuries and the suspensions. And we had to do that in a season where we didn't qualify for the Champions League, which has a massive impact, that's how it is. I know people expected it to be different but it's how it is. So I really think we did good business.
The players we brought in are really good, will help the team, will even get better. And I think especially for Macca and Dom, everybody could see that already. For Endo, it's a massive step, a massive change in the way he used to play and the way we play, so that obviously needs a bit of time to get there but it's no problem. And so, I really like the team. When I look at it before we start the game and you look at the line-up and, yes, the options on the bench were in the last weeks now a bit young but even that is great. I think everybody loves it when Ben Doak is coming on and when he's having his minutes in all these kind of games. Stefan is back in full training. So yes, we got younger, but we had to. We are lesser experienced but that's normal. But we are full of desire. I love this team.
On how impressed he was with Trent Alexander-Arnold's performance last weekend after an early yellow card…
Yeah, super. I think a lot of people would have thought, and I thought as well for a minute or two, do we have to change him? Do we have to make that change already? And I'm very happy that I didn't do it and I'm even more happy how Trent got through this game because it is difficult. I think we all agree that everybody in the stadium besides the Liverpool fans wanted him to go off as well in the next situation and I'm pretty sure it would have happened if Trent would have given anybody the chance to do so. That was a big step in his development, absolutely, to keep his calm and even to step up in the game, because he was really in it. He was super-important, in the defensive part, before the first goal; it's not now a pass everybody will remember forever but it was a sensational pass through the lines – Mo, Diogo, bam, in behind. How I said, we learned already a lot this season. We will learn more but we have to use as well already what we have learned so far.
On how the dynamic and skillset of the Reds' midfield has changed compared to last season…
We will see that. The natural skillset I think is obvious. But we had to replace and to change the most successful midfield in the young history of this club. Fabinho, Henderson, Milner, Gini Wijnaldum now a few years ago, all had big, big parts in that team. Yeah, Naby and Oxlade, all played big parts in that midfield. In our best periods I remember here you asked me the question if we are enough of a goal threat from this midfield, when we scored all the goals from the front line. I think we have much more goal threat in midfield now, that's definitely the case.
But the work-rate these guys put in, the stability they gave us, that was second to none and that's what we have to create as well, definitely. We will see how we do that because we can play different systems, we have to think about that during the season definitely. But we are still early into the season and we have to find [our way] into the season and you do that not with 12 changes in four days, you do that with keeping things like they are and going from there. That's what we do in the moment, but we will keep our eyes open on what is best for the specific line-up and then we will adapt. But I think it's clear the players we brought in have real quality, are young and in a super way really excited about the opportunity of being here. So, that's a cool mix.