Column: How Jordan reminds me of Ronnie
Liverpool's achievements throughout the 2013-14 campaign restored supporters' pride, wowed the neutrals and, in Brendan Rodgers' words, made teams around England and Europe 'sit up and take notice'.
Every aspect of the Reds' transition from a side that finished seventh to one in contention for the Barclays Premier League title was scrutinised meticulously over the course of a ground-breaking campaign.
Nowhere more so than in the national media, where the club's return to the Champions League for the first time in five years, prompted by a stunning 11-game run of victories, filled endless column inches and provided plenty of back-page headlines.
Liverpoolfc.com will review the season with a handful of the country's leading journalists - and today we get the thoughts of the Daily Mail's northern correspondent Dominic King, who tells us why Jordan Henderson is now one of the first names on the teamsheet - and why his playing style echoes that of Ronnie Whelan.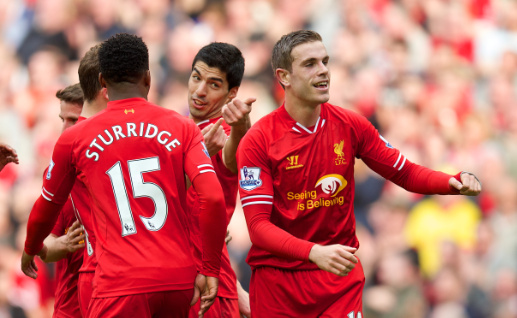 The scene inside the Hotel Mulia was frenzied. More than 300 local journalist-cum-fans had descended on Liverpool's plush base in Jakarta last July to gauge Brendan Rodgers' thoughts ahead of the new season.
With cameras flashing, iPhones recording and reporters shouting across one another to be heard, this was not one of the more laidback press calls Rodgers had done as Liverpool manager but he negotiated it, answering endless questions on the majority of his players.
Luis Suarez, Philippe Coutinho and Steven Gerrard dominated the agenda - he was also bizarrely asked whether he wanted to sign Wayne Rooney - but there were also words for Jordan Henderson. Rodgers hailed him for his versatility, professionalism and ability. Liverpool's manager also quietly made the prediction that he could even go to the World Cup.
Away from the madding crowd, in a meeting room three floors up from where Rodgers was being bombarded, Henderson sat down with this reporter and outlined why the forthcoming 12 months would be the most critical of his career. He knew he would be the subject of scrutiny and made it quite clear there would be no excuses.
"Over the past three or four years when I've been in the Premier League, at Sunderland and my first couple of years here, I feel I've learnt a lot," he said. "But I feel I am ready now. I have put lot of work and effort in and feel it's my time to go and show people what I'm about."
There was no hint of arrogance in the way he spoke, just a determination to prove he deserved to be classed as a 'proper' Liverpool player. How he accomplished that target. During a campaign that featured many standout performers, Henderson was among Liverpool's top bracket.
Powerful, energetic and determined, Henderson has become one of the most vital cogs in the Liverpool machine. The young man who at times appeared lost after his £16million move from Sunderland in June 2011 now looks set to be a mainstay of Rodgers' midfield for years to come.
"What you get from him is a work-rate and a mentality but Jordan has also got quality," Rodgers enthuses. "Wherever he plays there's no drop-off - you still get the same. He's one of those players that you could play him at right-back, which I've done sometimes, and he's got forward well.
"He's a really good young footballer whose understanding of the game is improving all the time. That allows him to play in a number of different positions. I have been so impressed with him since I have been here. He is getting better and better."
There is little doubt Henderson has benefited from time spent with Rodgers on the training ground at Melwood, soaking up all the advice and pointers he is given; this is a 23-year-old who is constantly striving to improve himself, desperate to make his mark.
In some respects, he can be compared to one of the club's former captains, Ronnie Whelan. They may not be like-for-like footballers but both perform roles that were not fully appreciated until they were missing, which is exactly what happened when Henderson was suspended for three games.
Liverpool, undoubtedly, missed the drive Henderson provided in the critical fixtures with Norwich City, Chelsea and Crystal Palace, following his red card against Manchester City in April and that gave the clearest indication of how much he has developed.
It is worth remembering that not many ripples would have been created in August 2012, after that difficult debut campaign, had Liverpool accepted Fulham's offer to take Henderson. Rodgers, for his part, never wanted Henderson to leave but relayed the message that had come from Craven Cottage.
Henderson, however, was not interested and his perseverance has been rewarded. Next season he will realise a dream when he gets to play Champions League football, having first been part of England's World Cup squad in Brazil. In all probability, he will start alongside Steven Gerrard when the campaign begins against Italy in Manaus. He certainly deserves to.
And while we are on the subject, a word or two about Gerrard. If Henderson is now showing the form that led Liverpool's captain to predict that he would be the player to take over his mantle, there is no sign of Gerrard slowing down yet.
If the goals of Luis Suarez and Daniel Sturridge before Christmas provided Liverpool with a platform to attack the top four, no player did more in the second half of the campaign to lift the club into a position where the prospect of a first title in 24 years became more than just a flight of fancy.
He was nerveless when it mattered, scoring penalties at Old Trafford, St Mary's and Upton Park and delivered a string of majestic performances; in another season, he could easily have collected a clean sweep of Player of the Year awards. It could certainly be argued that his form was as good as it was when he collected the PFA gong in 2009.
Quite simply, Gerrard sets the standard to which all Liverpool players must aspire - and his example is certainly bringing the best out of Jordan Henderson.